Thanks for visiting our site. We want to share with you this exciting opportunity to become part of an incredible and unique experience where you will be totally immersed in the study of Aikido and the principles passed down by O'Sensei. This is one of only a handful of retreats where you have a chance to study Aikido for five hours or more per day with teachers who are well accomplished leaders in the Aikido community.
During this Retreat you will have access to the teachers, share a meal, engage in conversation, and train with them on the mat. All featured teachers make a commitment to be present at classes that they are not teaching in order to train with beginners and more experienced Aikidoists. Consider attending this retreat and you may find yourself training with a 6th or 7th Dan who will be very generous with their practice.
Our focus is to bring people together from all walks of life with a range of experience in Aikido and strengthening community, developing resilience, and enhancing life long friendships.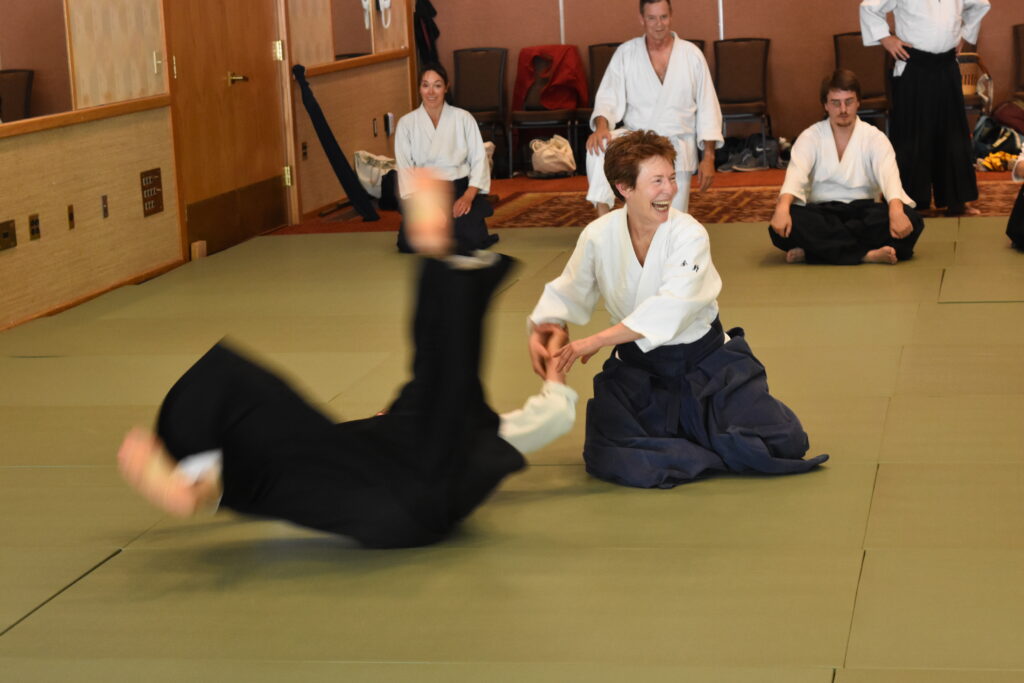 One of the unique features of the retreat is the mentoring program. It is important that Aikido has quality teachers who will continue O'Sensei's dream of spreading Aikido throughout the world. Becoming a competent teacher takes time, dedication and a specialized skill set. The mentorship program at the Aikido Retreat at Granlibakken provides candidates with the opportunity to refine their teaching skills and receive guidance, constructive feedback, and gain critical insights by working with a mentor throughout the week culminating in teaching a class. In addition, you can develop a personal relationship with your mentor that goes beyond the time spent at the Retreat.
And we have a remarkable and spectacular environment in which all this can happen. Granlibakken Resort is located in Tahoe City, California, in North Lake Tahoe. It is a family owned resort with a a very large hot tub, a sauna and a swimming pool, tennis courts, hiking trails, a ropes course, and Lake Tahoe just down the road. Some people arrive in their car on the 1st day and do not leave the resort grounds until they drive home at the end of the week. The accommodations are comfortable, the mat space and temporary dojo space is wonderful, and the cuisine is deserving of its 5 star rating. Whether you are vegan, vegetarian, or have special dietary needs, rest assured that you will eat well.
The "Aiki Follies" has been a long-standing tradition spanning at least 40 years and providing marvelous entertainment. A fabulous way to spend the last evening of retreat with friends, kicking back and enjoying the antics of a variety of talented people who entertain and provide everyone with much laughter and tender hearted moments.
So please give the retreat some serious consideration. This is your chance to improve your Aikido, deepen your understanding of the principles that O'Sensei shared with us, and learn how to make them applicable in your daily life.
In Peace and Harmony,
Register for the 2023 Session
Please note that COVID-19 vaccinations are a requirement to attend this event.
Once you have registered, please contact Michael Friedl Sensei at [email protected] and let him know that you would like to be a candidate for the mentorship program. 
Aikido Retreat at Granlibakken assures you that we will conform to all State of California requirements and CDC Guidelines for COVID-19.
Granlibakken Resort is certified as clean and safe by the California Hotel Lodging and Resort Association.
Granlibakken's cleanliness commitment to their patrons is:
Clean and disinfect high traffic areas and commonly used hard surfaces throughout the day.
Clean and sanitize touchable surfaces and equipment between shifts or users, whichever is more frequent.
Removal of reusable collateral from our guest rooms.
Cleaning linens at high temperatures using products in accordance with CDC guidelines.
Provide and require our team members to wear personal protective gear and train them on proper use.
Train our team members on COVID-19, preventing the spread, the importance of self-screening at home per CDC guidelines, and not coming to work if/when ill.